LIST: The Michelin Guide's Bay Area restaurants with great food at affordable prices
A full meal at these award-winning restaurants — including two courses, wine and desert — will cost about $40 (or less!)
SAN FRANCISCO (KGO) — The Michelin dining guide recognizes the finest restaurants in the world, but 20 Bay Area restaurants received another honor from the distinguished culinary guide.
The restaurants were named 2021 Bib Gourmands, which is defined by Michelin as "restaurants (that) offer a full menu of a starter, main course and dessert, making it possible to order two courses and a glass of wine or dessert for around $40 or less (tax and gratuity not included)."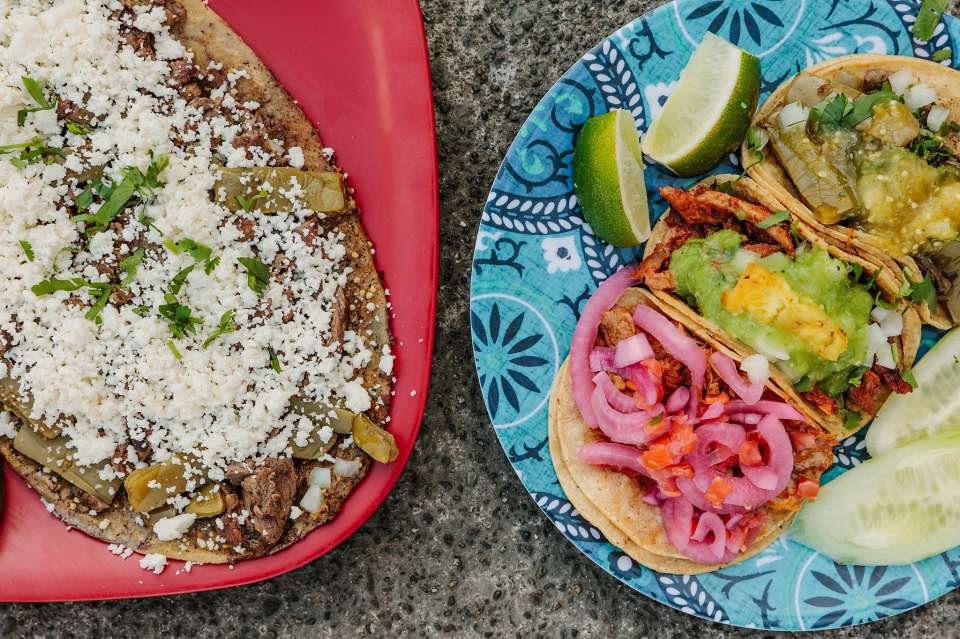 Top
 

MEXICAN

 

Restaurants

 

in

 

theBay

 

Area
Los Carnalitos, la mejor comida chilanga
At this family-run antojeria, an outstanding menu of Mexico City's street food is made from scratch daily.
Some of the finest and most unique Mexican food in the region, featuring fresh masa and specialty ingredients like huitlacoche and squash flowers, can be found at this humble taqueria run by two brothers — carnalitos — Luis and Alfredo Santos. For a heavier option, go for the deep-fried gorditas stuffed with bits of grilled pork belly, salsa, crumbly queso fresco, cilantro, onions and lettuce. The quesadillas, stuffed with melted Oaxacan cheese, tomatillo salsa, queso fresco and generous fillings like braised and shredded chicken tinga, are also a major and rewarding commitment. Lately, the majority of customers take their huaraches, quesadillas and tortas to go; it's always fun to eat tacos on your car hood outside the restaurant, though the view of the surrounding strip mall isn't spectacular. Los Carnalitos' truck has also continued to serve Redwood City. Check its Facebook page for updates on where the truck will be.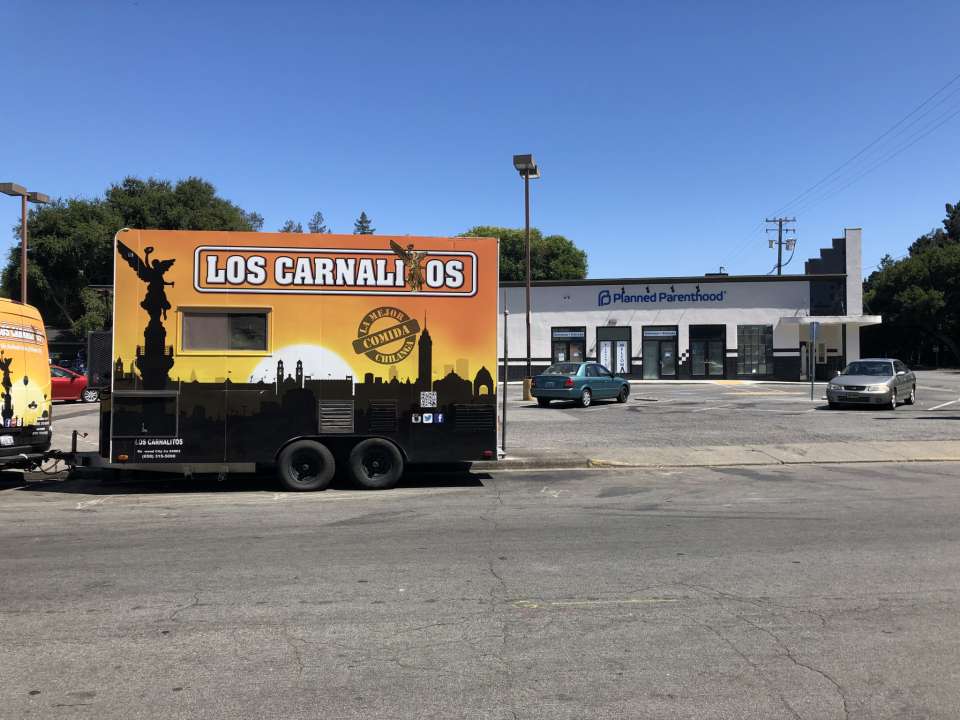 Top
 

MEXICAN

 

Restaurants

 

in

 

theBay

 

Area
Our favorite picks for mobile dining in San Francisco and beyond
I don't know about you, but I'm definitely down for a taco after a visit to the gynecologist. Every day except Sundays, the Los Carnalitos food truck holds court in the parking lot of Redwood City's Planned Parenthood, providing the sort of stellar clinical aftercare that your insurance definitely won't cover. Its Mexico City-style fare includes carnitas with serious juice and yes, they have cabeza and lengua, but their vegetarian goods are a highlight. Try the lip-smacking mixture of cactus, mushrooms, huitlacoche and squash blossom (called "azteca" on their menu) on a quesadilla or huarache. — S.H.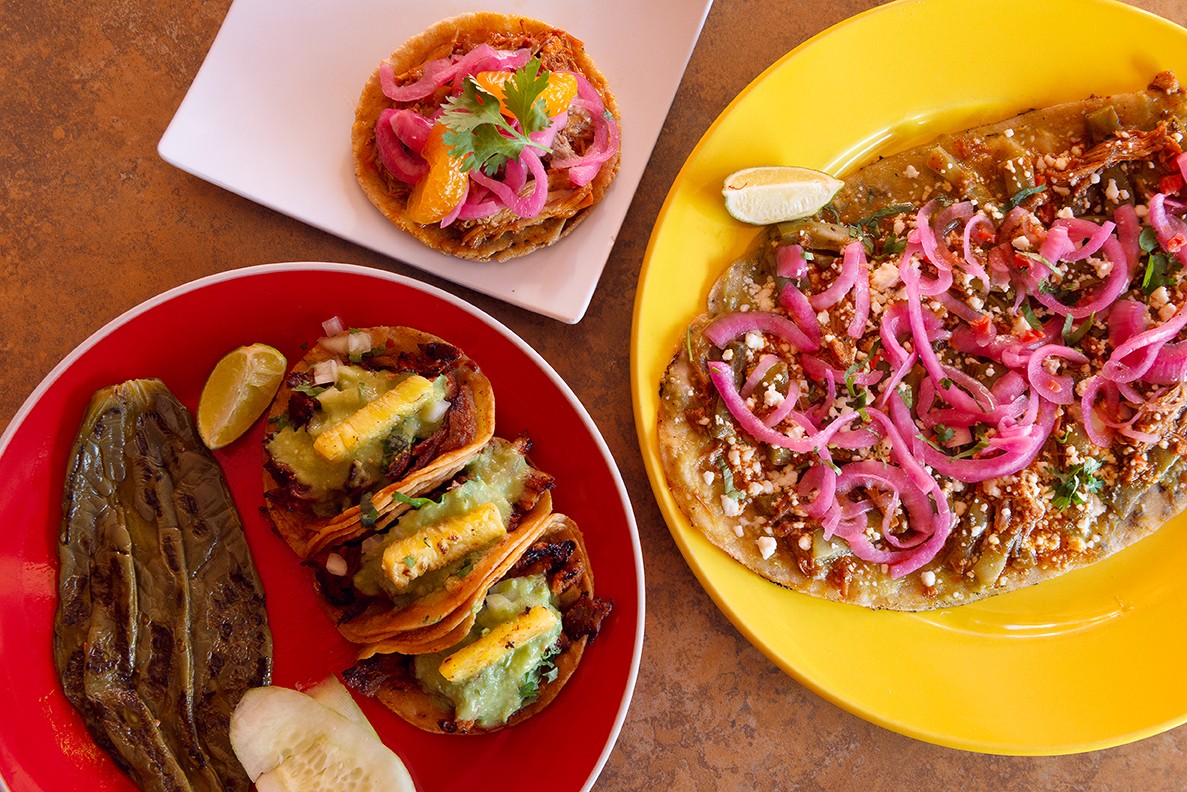 Los Carnalitos Brings a Taste of Mexico City to Hayward
The family-run restaurant features made-to-order items crafted from fresh masa, and each dish is clearly a labor of love.
Craving a huarache con costilla or a quesadilla de huitlacoche? These foods are ubiquitous on the streets of Mexico City, but absent from the menus of many Mexican restaurants in the Bay Area. Loyal customers from all walks of life, from construction workers to office dwellers to families, drive from places as far away as Fresno to an unlikely destination to satisfy their cravings for Mexico City-style cuisine: a small restaurant called Los Carnalitos, located next in a Hayward strip mall.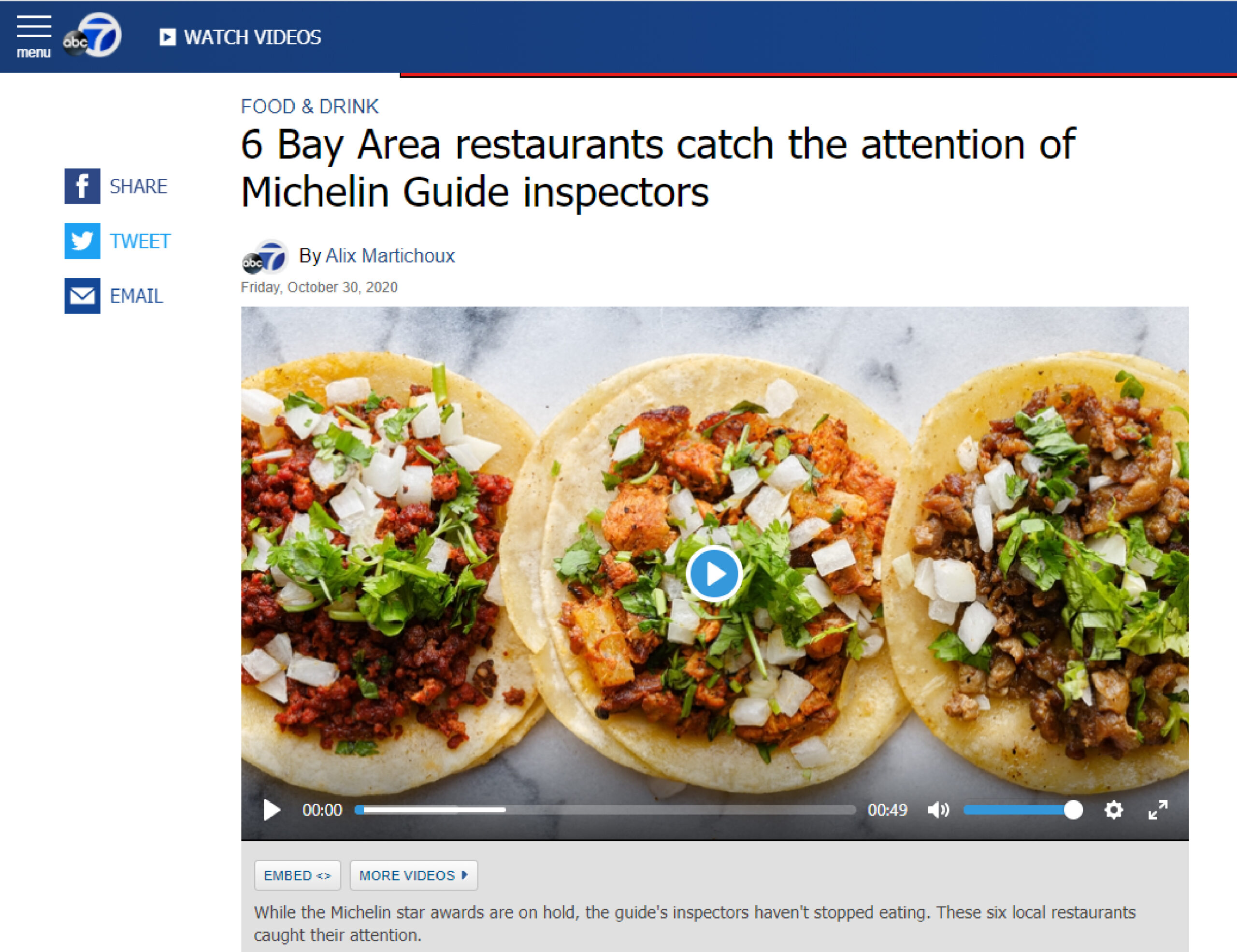 6 Bay Area restaurants catch the attention of Michelin Guide inspectors
SAN FRANCISCO (KGO) — While the next round of awarding Michelin stars is on hold amid the coronavirus pandemic, those notorious Michelin inspectors haven't stopped eating.
In a virtual charity event this week, the Michelin Guide revealed 25 restaurants in California that have caught inspectors' attention. The list is a "snapshot of new and inspiring culinary talent across California," says Michelin.
Los Carnalitos

30200 Industrial Pkwy. SW, Hayward; takeout and delivery only
"This family-run spot delivers a taste of Mexico City," said the Michelin Guide inspector. The tortillas are house-made, so the inspector suggests ordering the quesadilla with squash blossom, queso fresco and tomatillo salsa.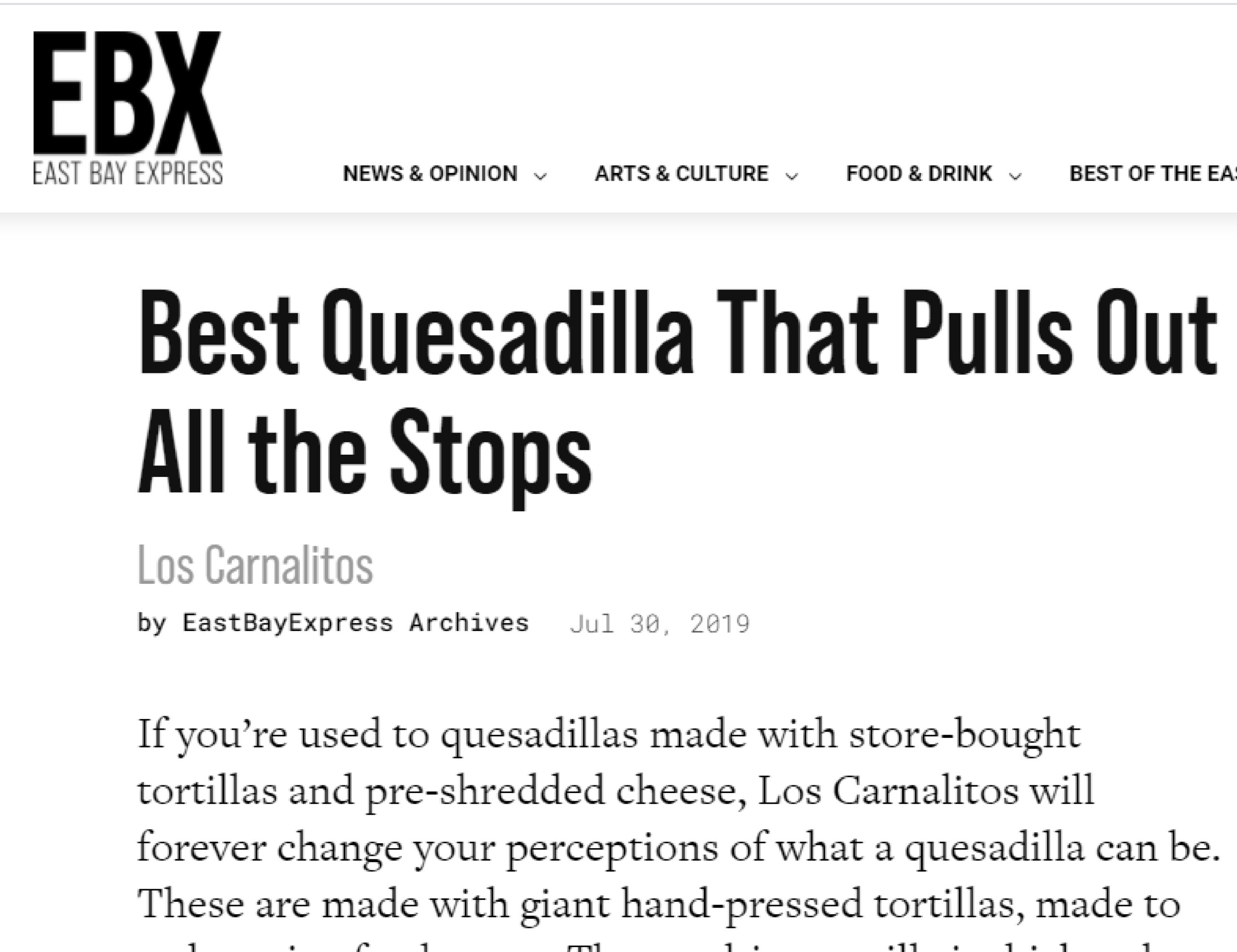 Best Quesadilla That Pulls Out All the Stops
If you're used to quesadillas made with store-bought tortillas and pre-shredded cheese, Los Carnalitos will forever change your perceptions of what a quesadilla can be. These are made with giant hand-pressed tortillas, made to order using fresh masa. The resulting tortilla is thicker than its store-bought counterpart, with a texture that falls somewhere between airy and al dente. Inside, shredded Oaxaca-style cheese, queso fresco, lettuce, and tomatillo salsa add creamy, fresh, and zesty flavors. Try the quesadilla Azteca, which comes stuffed with nopales (cactus), mushrooms, huitlacoche (corn fungus), and squash blossoms. The result is earthy and bursting with flavor. Or go for the chicharron version, which uses rich, succulent pork in a spicy red sauce for an over-the-top treat.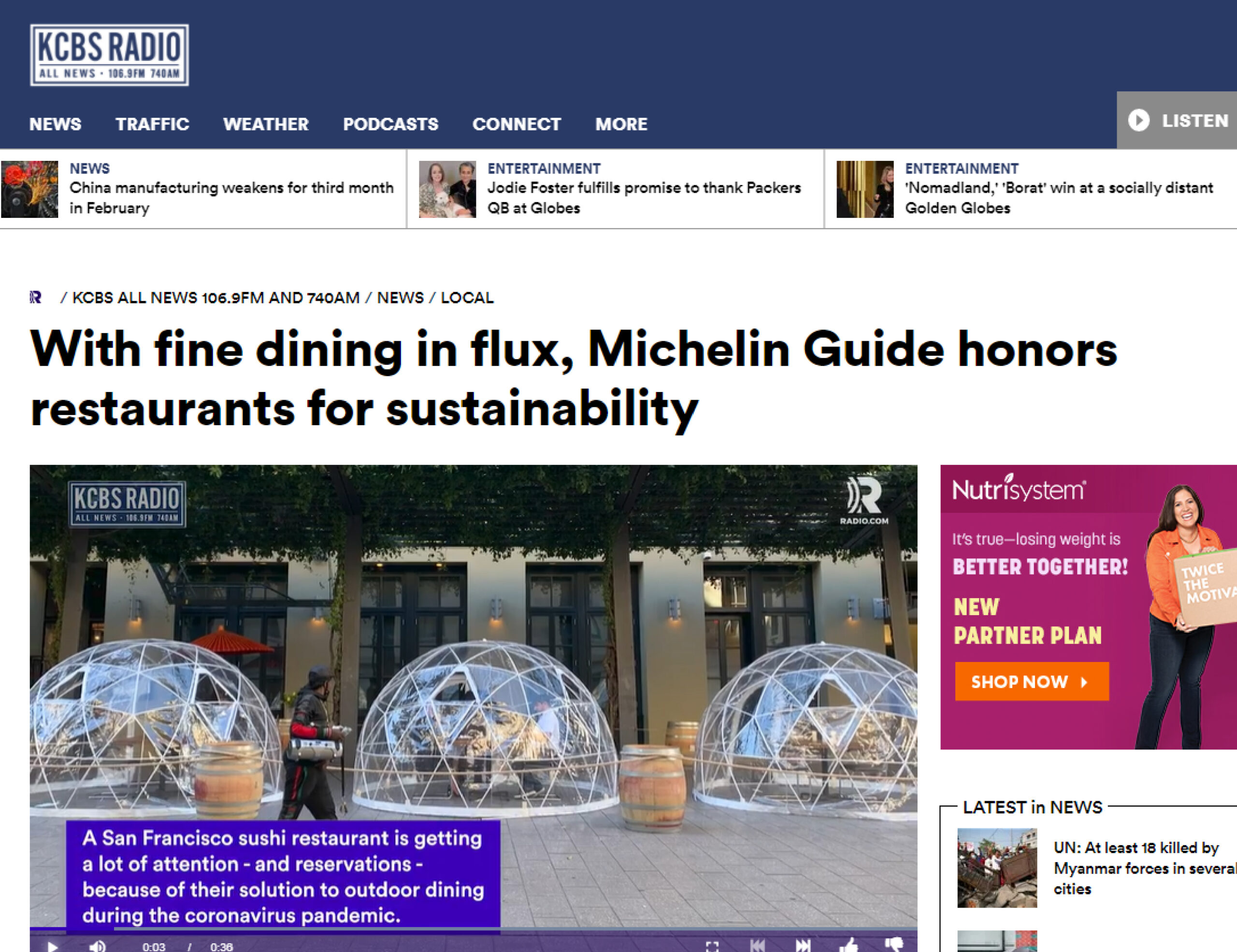 With fine dining in flux, Michelin Guide honors restaurants for sustainability
The prestigious Michelin Guide is not handing out any awards in California this year as the pandemic and wildfires have forced many restaurants to close or shift gears, in particular fine dining.
So while there will be no new star ratings, the guide is instead rewarding local chefs' efforts in sustainability.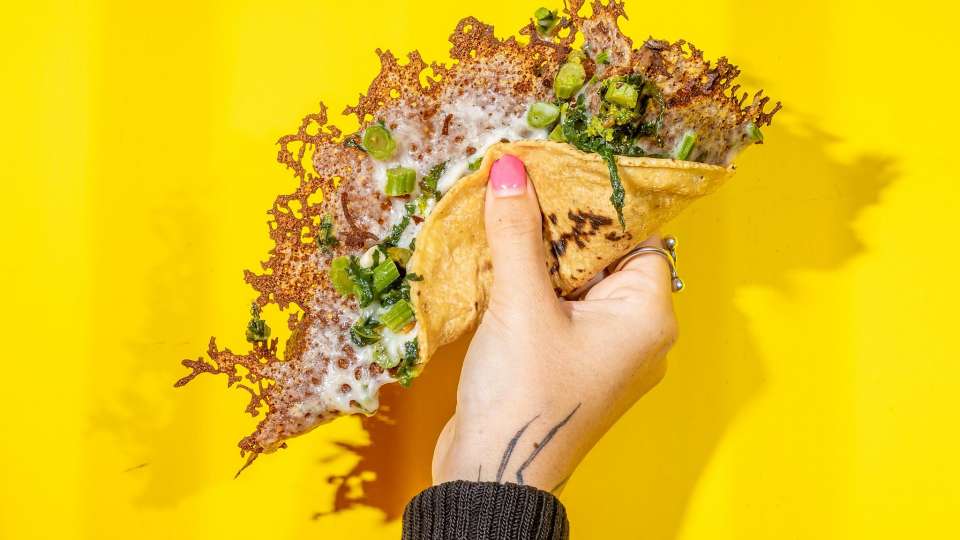 Where to experience the best food and drink in Oakland, Berkeley and beyond
THE EAST BAY, home of the Bay Area's late-night taco truck gatherings, lakeside cookouts and farm-to-table classics, has so much to offer the food lover. One reason is that restaurant real estate is relatively more affordable on this side of the bay, making the business more accessible to recent immigrants and other folks who don't have the kind of cash or investor relationships necessary to open a spot in San Francisco. That means lots of humble eateries like Fremont's Kyain Kyain, which serves as an ad hoc homecoming for Burmese expats, as well as the myriad taquerias in Oakland's Fruitvale neighborhood. The East Bay has also enthusiastically nurtured several of the region's most-hyped food pop-ups, where diners can queue up for Horn Barbecue's Texas-style brisket or Okkon's rectangular, pork belly-stuffed okonomiyaki. Thanks to the ingenuity of its traditionally working-class communities and diversity, this is where the Bay Area's restaurant scene is at its most cutting-edge. Here are the top restaurants and pop-ups in the East Bay.